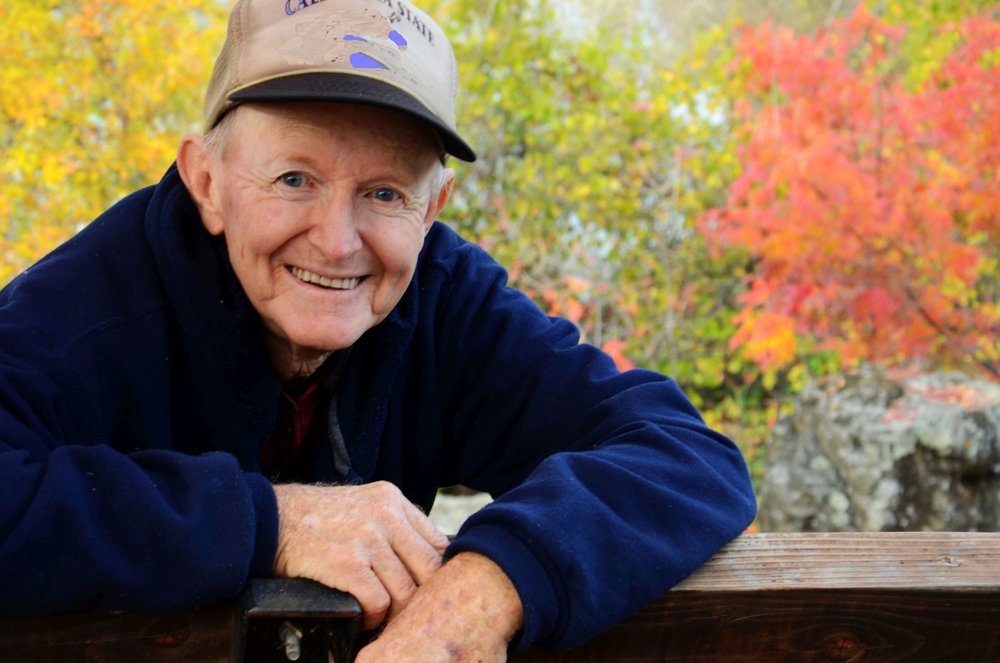 Obituary of Rex Eugene Burress
Rex Burress Obituary
Rex Eugene Burress was born in Trenton, Missouri on March 9, 1933 to Leslie Clyde Burress and Ethel Elizabeth Moore. He passed through the veil into his afterlife on October 2, 2019. As a Missouri farm boy, he developed a deep love for the natural world. He spent his early years exploring the forests, bottomlands and riparian habitats of his rural realm. His curiosity was boundless. He documented his discoveries in sketches, photography and his wildlife journals.
As a young man, he grew restless and traveled west to Arizona, then California, where he met his wife Ellen Joanne "Jo" Cain Burress. He fell in love with the ocean and Jo; Jo and Rex's shared passion for coastal tidepools sparked their relationship. They were married in 1957 on Thanksgiving. Their marriage spanned 61 years; the last 10 years Rex faithfully and lovingly cared for Jo during her decline with Alzheimer's disease. They raised daughter Rebecca Jo "Becky" and son Benjamin Starr "Ben" and provided them with a happy childhood and many family adventures camping and exploring the parks and landscapes of the West. As a father, Rex cultivated his children's imaginations and curiosity, as well as instilling a deep love and appreciation of nature. He was a great bedtime story teller! His beloved granddaughters are Maya Johanna and Keelan Alexandra McNeil (Rebecca) and Samantha Celine Burress (Ben and Kat).
Rex worked as a Naturalist at Lake Merritt Wildlife Refuge and Rotary Nature Center in Oakland, CA for 32 years. In 1993 he retired to Oroville to pursue art, writing and photography. He published two books – "Of a Feather" Insights into Nature and "Life on No Creek" Missouri Rural Days. His "River Watcher" column has been a regular feature in the Oroville and Chico newspapers for many years. He has enough written material to fill dozens of books.
A prolific artist, Rex was an award-winning painter and photographer. He was a co-founder and active docent of the Feather River Nature Center Native Plant Park in Oroville where his art and artifacts are on display. He was active in the Artists of Rivertown and Oakland and Chico camera clubs. He was also an avid rock hound. He collected tons of crystals, gemstones, minerals and petrified wood; his pockets always contained polished rocks and crystals which he gave away to friends old and new.
The ultimate achievement of his career as an interpreter of nature and promoter of environmental conservation was to be awarded the John Muir Association Conservation Legacy Award on Earth Day, 2016. However, it was the day to day opportunities of sharing and teaching about nature through conducting nature walks, presentations and writing that gave him the most joy. In remembrance of Rex, take a walk and observe the beauties of the natural world.
Celebration of Life Memorial Gathering will be held at the Lake Oroville Visitor Center Auditorium, 917 Kelly Ridge Rd. on November 23, 2019 at 2:00 pm.
In lieu of flowers please feel free to contribute to the Feather River Nature Center, Artists of Rivertown, or your favorite nature conservation organization.
Arrangements have been entrusted to Oroville Funeral Home (530) 533-0323
Visitation
Oroville Funeral Home
1454 Montgomery St., 95965
Orovillle, California, United States