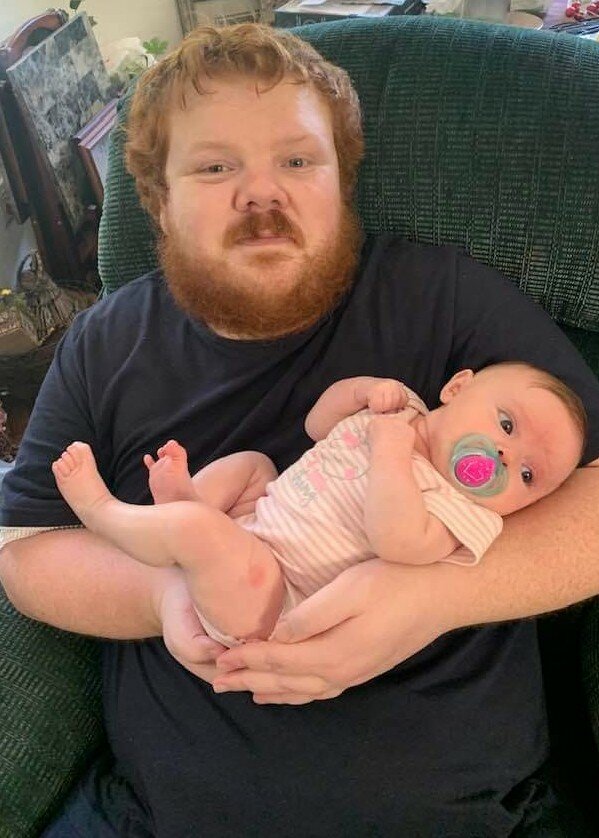 Obituary of Bricen J McNeece
Bricen J McNeece, 29, passed away on June 19, 2023
Funeral Service:
Friday July 7, 2023 at 12:00 pm
at Ramsey Funeral Home
1175 Robinson Street, in Oroville.
Interment to Follow Immediately:
Memorial Park Cemetery
5646 Lincoln Blvd in Oroville
I know there's a lot of people that never knew Bricen was deaf. When he was 8 months old he got very sick and had such a high fever. They had to plug his crib in to the wall and turn it to ice as he lay on it in severe pain. He had an IV in both arms, his leg, and he had wires coming from his head and his nose. It was a really scary time. He wasn't here on Earth long before his major struggles started. Only eight months old and had a bunch of surgeries on his ears, and eventually his nose and throat. It was a long hard road. He's always been so tough. I'm so proud of him. And he never gave up.
While the other kids only went half a day to kindergarten, he went a full day so he could learn to talk, read lips, and Sign ASL. He was always an over comer no matter what his circumstances were. He had such an indomitable spirit. Another thing a lot of people don't know about him was he was highly intelligent. His IQ was off the charts. And he had a photographic memory that was like total recall. It was very shocking to people the things he could recall from years and years ago. So long ago, you could barely remember anything of it. But he could give you every little detail. Every time anyone in our family and friends couldn't remember anything we all just always went to Bricen. With his photographic memory and total recall he would recall it all back for us.
He was shy and bashful when he was growing up. But he had such an awesome personality, so loving, caring, gentle and kind. God gave him a beautiful heart for people. That heart would bleed for anybody that was hurt or in pain. He would always try to help in any way he could. He grew up loving his siblings and God with all his heart He loved reading his Bible, read it every day. He graduated from High School and then went to college and got his AA Degree. He was 3/4 of the way done with his bachelor's degree. And then cancer hit. He never did get to finish getting his bachelor's. Once he got that he was going to work and then get his masters.
He didn't get to finish his dreams of having a good job so that he could support a family. He was such a good young man. He wanted to be able to support his wife and kids and for his wife not to have to work unless she chose to. Cancer took his life and cut his dreams short. Not only did it take his life. It took a daughter-in-law and grandchildren from us. Nieces and nephews from his siblings. No one should have to die when they're in their 20's and have their whole life ahead of them with so many hopes and dreams unfulfilled. He worked so hard, and he never gave up. Even as it all was being snatched away from him.
He's always had such an indomitable spirit, an awesome attitude, and forever the optimist. He was full of Faith, Love, and Hope and all the good things that God offers in this life. Such as family. He was the Biggest Part of our family, his laughter brought joy to everyone that was blessed to hear it. His smile could go on for days, no matter what kind of a day you were having he brought joy. He was very contagious; your day would just always start getting better just for having been around him. He was the type of person that could leave his imprint on your heart. He never complained or asked for anything in return.

He gave his love freely.
Everybody that has ever known him is so much better for having known him. He went through so much pain and so many hard times through his cancer journey. But he never gave up, never gave in. Even in death he showed so much courage and was so brave he was more worried about us. He was dying, and he says, "don't run yourself ragged over all of this mom." Dear God, in heaven, he was worried about us, and he was the one dying. He was an awesome, awesome young man. Someday when I decide to grow up, I want to be just like him. I mean just like him.
This world is truly missing out for not having him here Anymore. We will all be missing out on a one-of-a-kind human being. His family will love him Forever that will never change. God called our angel home. I have no answer for why But if you ask me, I'll tell you what I think he was too good for this world and god new it And this world held nothing for him but the love of God and his family and friends. So, God called our special angel home so he could shine where he belongs. Throughout all eternity, he's waiting for the rest of us. Don't worry, son, I'll be there soon. Be sure and hold the door open for us We will all be there soon.
By for now, mom's awesome young man. We will meet again in glory. You may be gone from our sight, but you will never be gone from our hearts nor forgotten. You have left your imprint on all of our hearts and lives. I love you, our sunshine and always will. May God truly bless you throughout all eternity. You've seen his face, To be absent from the body is to be present with the Lord. And you shall be known as you are known, that's what the Bible tells us. You lived your life the same way you died, with integrity. I am so so proud of you. Your Uncle cried right when you passed and said how incredibly proud, he was of you and what an awesome Courageous and brave. young man you are He died with such dignity, that's what he said. Someday when I pass on.
I hope and pray I have as much Integrity courage and Bravery as you did. Lord god in heaven knows we are all so happy knowing where you are.
You're in God's loving hands now, and there are no better hands to be in your home son, you're home Glory Glory praise God, thank you Jesus Amen and Amen.
Arrangements are entrusted to Ramsey Funeral Home 530-534-3877
Funeral Service
12:00 pm
Friday, July 7, 2023
Ramsey Funeral Home
1175, Robinson Street
Oroville, California, United States
Share Your Memory of
Bricen
Ramsey Funeral Home

1175 Robinson St.
Oroville, CA
95965
Tel (530) 534-3877
Fax (530) 534-6238
FD-1578

Oroville Funeral Home

1454 Montgomery St.
Oroville, CA
95965
Tel (530) 533-0323
Fax (530) 533-0822
FD-464

Gridley-Block Funeral Chapel
679 Ohio St.
Gridley, CA
95948
Tel (530) 846-2138
Fax (530) 846-2897
​FD-867

About Us
At Ramsey Funeral Homes, our focus is to help the living successfully navigate the Acute Loss Period, the crucial time between the event of death and the onset of grief.

---