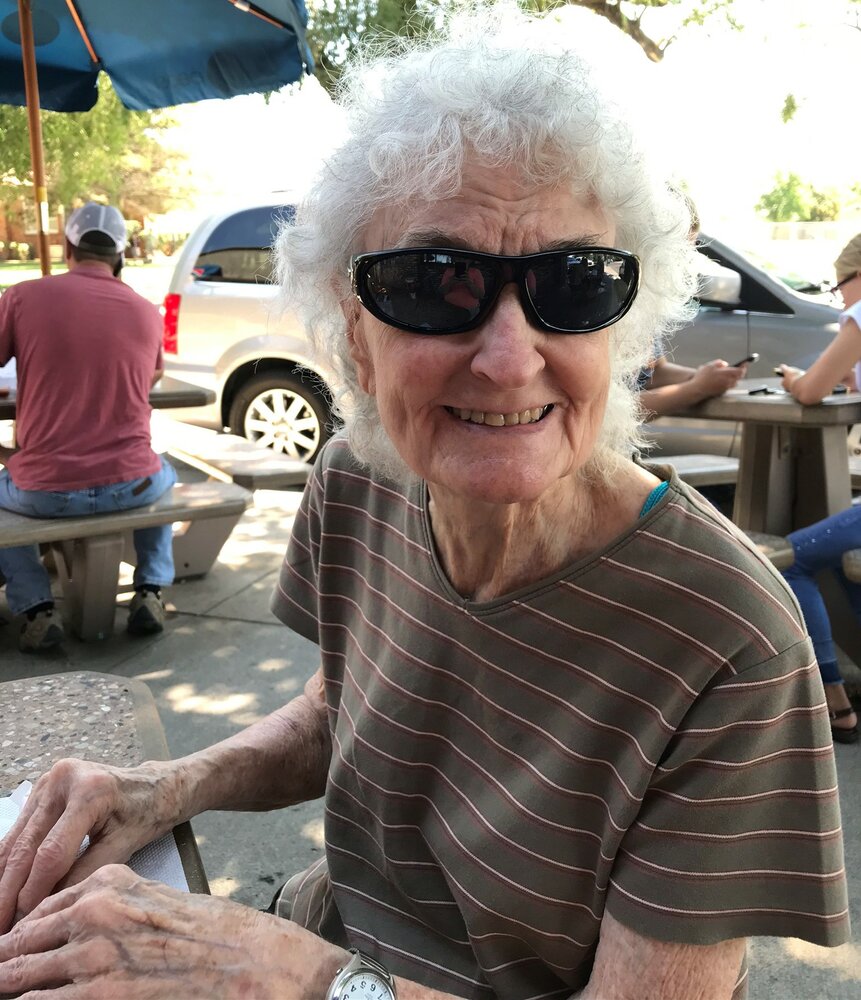 Obituary of Olive Delorise Roderick
Olive Delorise Huett Roderick, wished to be called Delorise by friends and family, and Gramma Dee by all the grand kids, great grand kid's and great-great grand kids. Olive was born June 27, 1931, in Milk Springs, MO; and entered eternity on May 3, 2023, in Oroville, CA. She was 91 years young.
Olive is survived by her daughters: Karen Kinser of Nampa, ID, Linda Hill of Greenville, CA, and her daughter Trena Davis, of Oroville, CA, and her daughter-in-law, Danielle Fuller, of Oroville, CA. Olive had 4 children, 12 grandchildren, 21 great grandchildren, and 14 great-great grandchildren. She remembered all their birthdays and anniversaries and sent cards to them. She was preceded in death by 2 sisters, 2 brothers and her son Rick.
In her youth, Olive was quite intelligent. In fact, she was passed from one of her grades to the next grade in school. As a young adult, she met and married Sylester Fuller, Jr. She and her, then husband, Sylvester, who everyone called, Junior, had 4 children, ages 1,2,3, and 4. She stayed at home raising their four children while her husband worked as a timber feller. When needed, Olive filled in at the kid's grammar school, Horicon Elementary School, as a teacher. She loved to sew and often made the kid's clothes, including their Easter dresses, which the children always remembered the smell of that fabric from which the dresses were made, a dotted Swiss in lemon yellow. Olive loved camping, fishing, going for rides in the family station wagon, and the ocean. Most of all Olive loved being near and visiting family. She had outlived all her 5 siblings, but one sister, who is in Hospice in another state. Olive loved to eat fresh fish, corn on the cob, chicken and dumplings, watermelon, cherries, and ice cream, which she ate as often as she could. Olive worked at the local courthouse as a Data Process Server, and at the local cannery. Olive and Sylvester divorced after being married for over 20 years. They both remarried the day the divorce was final. Olive, to Jack Miller, Jr., and Sylvester to Doris Watson.
Later in years, Jack passed away. After a while, she then married Jerry Roderick, whom she was married to until 2016. She lost the sight in one of her eyes due to temporal arteritis. A few years later she lost sight in the other eye, and so was completely blind for over 17 years when she passed. Jerry was on oxygen, and one night he turned on the wrong machine and was off oxygen all night. The next day she called her daughter, Trena, to fly down and be with her, and move her up to Oroville, from Yuma, AZ., because Jerry's children were flying down to move Jerry home with them the next day, and she couldn't be alone. That night Trena flew to Yuma and took 3 days to pack up all her belongings, rent a U-Haul trailer, pack it up, clean the house, and find a realtor to sell the house. It then, took 3 more days to drive to Oroville due to exhaustion on Olive and her daughter's part. Olive moved in with her daughter, Trena, who cared for her mom for 7 years, along with Trena's daughter, Shawnee Tonsing, who moved in with them to help care for Olive for the past 5 years, until her passing on May 3rd, 2023.
She loved keeping in touch with her family. Olive spoke with her daughter, Linda, on the phone daily at least once a day, and visited when she could get away for a few hours for the drive from Greenville and back. She spoke with her daughter, Karen as often as she could on the phone. Her son Rick had passed away almost 3 years before Olive, but she did speak with her daughter-in-law, Danielle, her daughter Chrissy, and granddaughter, Keasha and visited with them when they could get away from their busy lifestyle. She also visited with her grandchildren as often as they could come to see her, and she would go to their birthday parties when she was able.
Olive loved attending her church: Palermo Bible Family Church in Palermo, CA, which she did along with her daughter, Trena, and her granddaughter, Shawnee. She loved her Pastors, Mike and Pat Jacobsen and their family. She loved singing the old hymns best of all. Olive lived a full life and is now resting in the arms of Jesus, her Savior. She was a beautiful soul, and she will be well-missed by her loved ones, friends, and family.
Her Funeral Service will be on Saturday May 20, 2023 - 1:00 PM at Ramsey Funeral Home 1175 Robinson Street in Oroville, California.
Arrangements entrusted to Ramsey Funeral Home 530-534-3877
Share Your Memory of
Olive
Ramsey Funeral Home

1175 Robinson St.
Oroville, CA
95965
Tel (530) 534-3877
Fax (530) 534-6238
FD-1578

Oroville Funeral Home

1454 Montgomery St.
Oroville, CA
95965
Tel (530) 533-0323
Fax (530) 533-0822
FD-464

Gridley-Block Funeral Chapel
679 Ohio St.
Gridley, CA
95948
Tel (530) 846-2138
Fax (530) 846-2897
​FD-867

About Us
At Ramsey Funeral Homes, our focus is to help the living successfully navigate the Acute Loss Period, the crucial time between the event of death and the onset of grief.

---