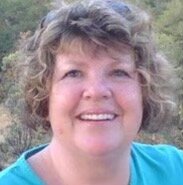 Obituary of Sue Ann Scholl
On the afternoon of July 17, 2022, Sue Ann Scholl of California died at age 77. Sue was born to Mark and Margaret Jeidy in Lancaster, Wisconsin in 1944.
A talented seamstress and knitter, Sue loved making gifts for her family. Her hand-crafted quilts, blankets, Afghans, slippers, beanies, mittens, and scarves were made with love, and are cherished by their recipients. Sue loved baking, cooking, canning, and pickling not only everyone's old favorites, but was always trying new recipes or creating them on-the-fly. Her adventurous spirit was not limited to home, and she would fearlessly set out in bold new directions with a laugh and a smile. She lived in the rolling hills of Wisconsin, the lush green pacific northwest, a sailboat in the Pacific, the high mountains of New Mexico, and the deserts of Arizona. When asked about her favorite location of all, she replied "the Garden of the Gods in Colorado." Sue finally found a permanent home in Oroville, California to be near her beloved grandchildren. A voracious reader for most of her life, Sue always had a ready supply of new books at hand and could often be found curled up and enjoying the most recent one. Above all else, Sue cherished, loved, and adored her family, and was on Cloud 9 when her grandchildren came.
Sue is preceded in death by her parents Mark and Margaret. She is survived by her son Ted, his wife Christina, and grandchildren Jacob and Jacquelyn of Oroville California, her daughter Jennifer of Anchorage, Alaska, and her youngest son Tony of Phoenix, Arizona. She is also survived by her sister Mary Patricia of Waukesha, Wisconsin; her brother Steve of Middleton, Wisconsin; her brother Richard of Excelsior, Minnesota; her youngest sister Elizabeth of Oregon, Wisconsin; many nieces, nephews, and grandnieces.
Mom, Grandma, Sister, Aunt, and friend to us all, you will be missed tremendously by all of us, and forever loved.
Arrangements entrusted to Ramsey Funeral Home (530)534-3877.

Ramsey Funeral Home

1175 Robinson St.
Oroville, CA
95965
Tel (530) 534-3877
Fax (530) 534-6238
FD-1578

Oroville Funeral Home

1454 Montgomery St.
Oroville, CA
95965
Tel (530) 533-0323
Fax (530) 533-0822
FD-464

Gridley-Block Funeral Chapel
679 Ohio St.
Gridley, CA
95948
Tel (530) 846-2138
Fax (530) 846-2897
​FD-867

About Us
At Ramsey Funeral Homes, our focus is to help the living successfully navigate the Acute Loss Period, the crucial time between the event of death and the onset of grief.

---