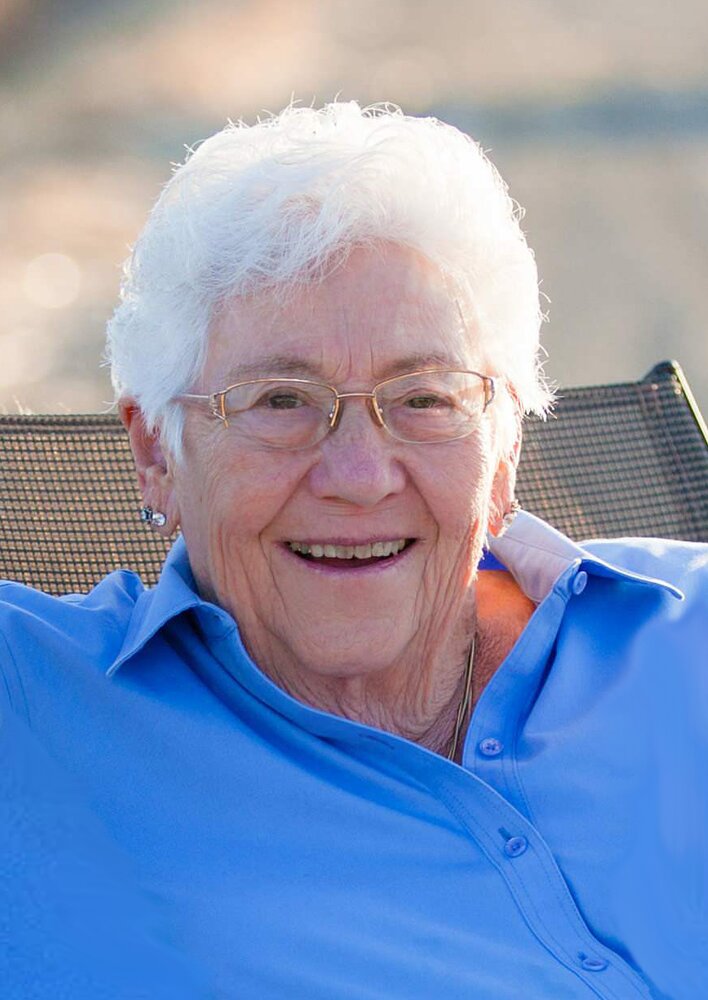 Obituary of Alma Jean Schohr
Living a life full of fun, travel, flowers, and family Alma "Jean" Schohr, 90, of Gridley, California, entered into eternal rest on Tuesday, November 16th, 2021. Jean was the daughter of Carl and Abbie (McKenzie) Bachels, born in San Jose, Calif., on May 16, 1931. She grew up on her family's McKenzie Guest Ranch in Mohawk Valley located near Graeagle, California, with her sister, Louise who was 10 years older. Her early schooling was nearby in the valley in the Sulfur Springs one room schoolhouse. School was during the summer after snowmelt, which, according to her, was an uphill walk, both ways! She later attended Portola High, graduating in 1949. During WWII, Jean, along with her family, spent time in the Kilkare Woods area in the East Bay, near Sunol, where her father helped lumber operations in support of war efforts. Her favorite recollections were stories of her childhood on the guest ranch, with mountain adventures in the Sierras, cooking, caring for livestock, gardening, and helping her family with guests from all over that helped shape her life, caring spirit, and work ethic. Her favorite guest? The man who went on to be the love of her life. The story goes, Douglas Schohr fell for the love of his life, when a bear hunting trip to Plumas County was canceled, requiring an overnight stay at the McKenzie Guest Ranch. The pair had met once previously in 1945, but rekindled love took hold in 1949. Jean always claimed he still ended up with a bear! The two were married on January 20, 1951. Doug & Jean "strolled the lane together, laughed in the rain together, and both knew then that it would never end." They were happily married 61 years, until Doug's passing in 2012. While Doug was serving in the United States Army, Jean attended the California State College in Chico (CSU, Chico) teaching program while continuing to help her family on the guest ranch. They would exchange letters often during this time, expressing their love for each other. In 1952, Doug returned from Korea and home to Gridley alongside his wife to farm on the Schohr Ranch west of town. They built their family and life in a renovated "Bunkhouse" on the ranch, welcoming 3 boys, Carl, Jim and Bill. Raising these boys was a challenge, she would remark "one boy all boy, two boys some boy, three boys no boy" referring to their decision making! Jean, known as "Mimi" to most, was a mountain girl at heart. She loved going to the cabin her father built in Sierra County to smell the essence of fresh pine and cedar in the afternoon "Mariah" winds, drinking water from the spring, strolling the meadow for a bouquet of wildflowers, and cooking on the wood fire griddle outside. She was a connoisseur of her grandchildren's "mud" pies there and loved a good book on the porch while tanning her legs! She enjoyed cooking, canning, baking, knitting, working in her yard, watering, mowing the lawn, pruning roses, watering, feeding the birds, rearranging the flowerpots and more watering! Most of her cherished travels and memories were spent with her 7 Grandchildren and 11 Great Grandchildren traveling and participating in their activities. For 3 generations she made sure youth sports were cheered on, 4-H whites were starched and blue FFA jackets cleaned, ready for the show or convention. Mickey Mouse knew her well, as there was hardly a calendar without a trip to Disneyland planned for her, Papa Doug and family. She celebrated her 90th birthday at the "Happiest Place on Earth." Her legacy continues to live on through her family, son Carl and his wife Susan (Orme) of Gridley; son Jim, of Star, Idaho; son Bill and his wife Lisa (Butler), of Gridley; and niece Abbie Beran of Chico. Grandchildren include Ryan Schohr and his wife Holly Whittaker, of Chico; Steven and his wife Amanda (Farrah) Schohr of Oroville, Jamie (Schohr) and husband Mark Owens of Eagle, Idaho, Tracy Schohr and Ryan Imbach of Gridley; Lee and his wife Taylor (Steadman) Schohr of Meridian, Idaho; Tayler (Schohr) and her husband Bryce Brumley of Orovada, Nevada, and Justin Schohr of Gridley. Great Grandchildren include Kylee and Makenzie Owens; Colton Imbach; Cash Brumley, Brock Schohr; Madison Schohr; Joseph, Madeline and Aiden Schohr; and Steele and Tayson Schohr. Per her wishes, there is a PARTY to celebrate Mimi's life planned for 11:30 AM, Thursday, December 9th, 2021, at the Gridley Moose Lodge, 1533 State Highway 99 in Gridley. In Jean's honor and in lieu of flowers, the family has requested contributions be made to Gridley FFA (300 E. Spruce Street, Gridley, CA 95948) or CSU, Chico, College of Agriculture Scholarship Fund (400 W. Frist Street, Chico, CA 95929-0999). Arrangements entrusted to Gridley-Block Funeral Chapel.
PARTY to celebrate Mimi's life - per her wishes
11:30 am - 1:30 pm
Thursday, December 9, 2021
Gridley Moose Lodge
1533 CA Hwy 99
Gridley, California, United States
Share Your Memory of
Alma
Ramsey Funeral Home

1175 Robinson St.
Oroville, CA
95965
Tel (530) 534-3877
Fax (530) 534-6238
FD-1578

Oroville Funeral Home

1454 Montgomery St.
Oroville, CA
95965
Tel (530) 533-0323
Fax (530) 533-0822
FD-464

Gridley-Block Funeral Chapel
679 Ohio St.
Gridley, CA
95948
Tel (530) 846-2138
Fax (530) 846-2897
​FD-867

About Us
At Ramsey Funeral Homes, our focus is to help the living successfully navigate the Acute Loss Period, the crucial time between the event of death and the onset of grief.

---