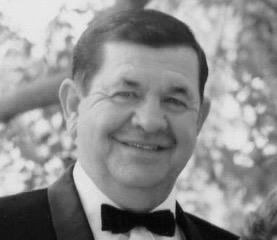 In Memory of
John William Mastelotto
1934 - 2018
Obituary of John Mastelotto
His Legacy...John William Mastelotto was born June 6, 1934 in Portola, California. He was one of ten children born to Mose and Marvel Mastelotto. John passed away February 24, 2018 in Oroville, CA. He attended Bird Street School and graduated from Oroville High in 1953, where he participated in football, basketball and track. He married his high school sweetheart, former Miss Oroville, Alice. He attended Yuba College where he played football and basketball, where he was later inducted into the Hall of Fame. At 14 John was driving a logging truck and working in the woods with his father. While attending Yuba College he worked in a service station. After college he worked for Dolly Madison and Rainbow Bread as a delivery man, and he sold Real Estate for a few years. With his father and brothers, John started Mastelotto Enterprises. They provided sand and gravel for the Oroville Dam Project. When the dam was finished the brothers moved south to work on several jobs between Bakersfield and LA ending with the San Bernardino Flood control channel. In 1974 they moved home to Oroville, Opened Oro West Racquet Club and he started JRM Land and Cattle followed by JAM Cattle and Mastelotto Ranches. He and son Pete operated their cattle operation until his death. He was a member of Cattleman's Association.
His Family... He is survived by his wife of 64 years, Alice, brothers Mose (Roselyn), Bobby (Kim) and Roy (Lillian). He was devoted to and most proud of his four children; Linda (Kevin) McClellan, Pete(Maureen) Mastelotto, Rhonda Henry, Dan Mastelotto, nine grandsons; Andy, John and Jake McClellan; Curtis, Joe and Russell Henry; Jimmie, Mario & Luke Mastelotto, and his 6 great grandchildren, Emily, Macy, Natily, Addy, Byron & Ari. John is preceded in death by siblings Velma, Wanda, Margie, Bruno, Glen, James, and grandson Luke.
His Farewell Service...A Memorial Service will be held on Friday, March 16, 2018 at 1:00 PM at Ramsey Funeral Home, 1175 Robinson Street, Oroville, California. Arrangements are entrusted to Ramsey Funeral Home 530-534-3877.
Ramsey Funeral Home

1175 Robinson St.
Oroville, CA
95965
Tel (530) 534-3877
Fax (530) 534-6238
FD-1578

Oroville Funeral Home

1454 Montgomery St.
Oroville, CA
95965
Tel (530) 533-0323
Fax (530) 533-0822
FD-464

Gridley-Block Funeral Chapel
679 Ohio St.
Gridley, CA
95948
Tel (530) 846-2138
Fax (530) 846-2897
​FD-867

About Us
At Ramsey Funeral Homes, our focus is to help the living successfully navigate the Acute Loss Period, the crucial time between the event of death and the onset of grief.

---