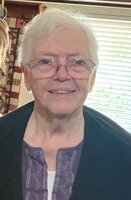 Kathy Adams
Kathleen (Kathy) Sue Adams, 83, of Gridley, California, passed away on January 22, 2023, in Yuba City, California. She was born in Topeka, Kansas, on March 21, 1939. During the last four months of her senior year, she moved to Gridley, graduating from Gridley High School. She continued her education at Yuba College. She was a devoted member of The Church of Jesus Christ of Latter-Day Saints where she held positions in Relief Society, Primary, Scouting, and Music. Her career, besides raising her family, was with the Department of Motor Vehicles and a CPA accounting firm. She was an avid quilter and shared her legacy and talent with family and friends. Family history was another passion.
Her surviving family are children John & Mona Adams, Julie & Scott Jewell, Jeffrey & Candy Adams; grandchildren Jennifer & Patrick Bowen, Jessika & Tim O'Hara, Joshwa & Erin Adams, Joell & David Wallaker, Dewayne Michael Adams, Earline Adams; and great-grandchildren Patrick Bowen Jr, Baylee Adams, Payton Bowen, Connor O'Hara, Jordyn Adams, Pence Bowen, Cennedeigh O'Hara, Colby Adams. She was preceded in death by her parents Albert H. and Vera W. Harris, her sisters Betty Lou Conaway and Elaine Adair Sparks of Kansas, and her husband Jay Colby Adams.
Her memorial service will be held at 10:00 a.m. on February 3, 2023, at The Church of Jesus Christ of Latter-day Saints on 1259 French Avenue, Gridley, California. Bishop Pono Nako will be officiating. Burial will follow at Gridley-Biggs Cemetery.
The family wishes to extend their gratitude to Summerfield Assisted Living for their excellent care of our mother this past year.
Arrangements entrusted to Gridley-Block Funeral Chapel.