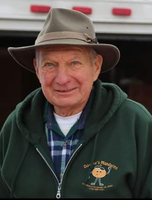 George Walter Doering
George Walter Doering, 83, passed away suddenly on July 22, 2019. George was born on December 10, 1935 in French Camp and lived in Butte County for the last 80 years. He graduated from Biggs High School in 1954.
George was a carpenter by trade, but most knew him for his delicious mandarins. He and his wife owned and operated Doering's Mandarins for the past 55 years, building the business from scratch.
George was a religious man who was a member of Grace Lutheran Church in Gridley. He was a devoted family man that touched everyone he met. His warm smile and twinkle in his eye made you feel instantly like family.

He is survived by his loving wife of 62 years, Patricia, and their children, Mark, Ken, Terri, Lisa, 22 grandchildren, 12 great-grandchildren and sister Janet. He was preceded in death by his parents, Emil and Betty; and daughter Tammy.
Visitation is scheduled for Monday, July 29, 2019 from 5pm – 8pm at Gridley Block Funeral Chapel. The funeral will be held at Grace Lutheran Church on Tuesday, July 30, 2019 at 10:00 am with a graveside ceremony and Celebration of Life directly following.

Donations honoring George may be made to Grace Lutheran Church, 150 Ford Avenue, Gridley, CA 95948.
Arrangements entrusted to Gridley-Block Funeral Chapel.