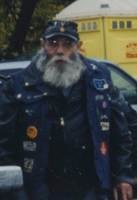 Paul Earl Richardson
His Legacy… Paul Earl (Ape) Richardson was born on April 4, 1938 in Wallace, Idaho to Nate and Nora Richardson. Paul served in the United States Navy from 1955 to 1957. He worked as a laborer for many years. He married the love of his life Wilma on July 19, 1980. He enjoyed riding motorcycles, camping and spending time with family and friends. Paul passed away on February 1, 2019 in Oroville, California. He will be deeply missed.
His Family… Paul is survived by his beloved wife Wilma Richardson of Oroville, CA; his sons Peter Earl Richardson of Oroville, CA; Matthew Earl Richardson of Oregon; Mark Earl Richardson of Oroville, CA; daughter Tina Louise Oatts of Fallon, NV; his step children, Michael House of Willits, CA; Rose Marie House of Oroville, CA; Charles House of Oroville, CA numerous grandchildren and great grandchildren. He is preceded in death by his parents and his brother Robert and step-son William B. House.
His Farewell Service… Celebration of Life will be held in the spring. Contact Wilma Sugar Momma 530-534-1195. Arrangements are entrusted to Ramsey Funeral Home 530-534-3877.