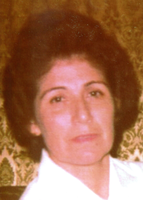 Maria Esperanza Ramirez
María Esperanza Chávez de Ramírez, known to some as "Hopie", born February 13, 1927 in Durango, México, passed away peacefully in her home in Biggs, CA on January 1, 2019 at the age of 91.
Esperanza was preceded in death by her husband of over 40 years, León Ramírez.
She is survived by three sisters, a brother, her daughter María Elena Moreno (Miguel), sons José Tomás (María Elena) and Roberto (Patty), nine grandchildren and twelve great-grandchildren.
Determined to succeed, Esperanza built her own home and acquired many rentals through her hard work at Libby's cannery, as well as field work and house cleaning.
The community and her family knew and will continue to remember Esperanza for her honesty, generosity, and kindness.
Services will be held at Sacred Heart Catholic Church in Gridley on Tuesday, January 8, 2019, with the Rosary at 9:00 a.m. and Mass at 10:00 a.m. Arrangements entrusted to Gridley-Block Funeral Chapel, 530-846-2138.