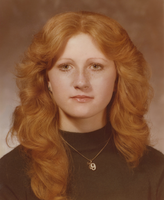 Sharee Dream Wehle
Her Legacy...Sharee Dream Quigley was born on October 27, 1961 in Oroville, California. She went to be with the Lord on December 26, 2018. She was the daughter of Ernest Marvin Quigley and Phyllis Jean Quigley. Sharee married Rick Kieth Kniss on June 21, 1979 and had three children, Elvis Kniss, Levi Kniss and Breezi Kniss Tiedemann. Sharee worked many years as a nurse and a counselor. She was a member of the Nazarene Church. She enjoyed bible studies with her friends, N.A., Serenity Groups and especially her time with her kids and grandkids.
Her Family...Sharee is survived by her brothers, Thomas Quigley and Daniel Quigley, her sons, Elvis (Michelle) Kniss, Levi Kniss and her daughter, Breezi (Chris) Tiedemann. She is also survived by her grandchildren Ariana, Kristiana and Bryson Vollendorff, Keegan and Riken Kniss, Kimberly Kniss and Cheemeng Yang, as well as her nieces and nephews, graet nieces and great nephews. She also leaves behind her beloved dog Hazel. She is preceded in death by her grandparents Thomas J and Hazel E. Chamberlain and her parents Ernest M. and Phyllis J. Quigley and her uncle James J. Chamberlain.
Her Farewell Service...Memorial Services will be held on Thursday, January 24, 2019 at 11:00 AM at the Church of the Nazarene, 2238 Monte Vista Ave. Oroville, California with reception to follow. Arrangements are entrusted to Ramsey Funeral Home 530-534-3877.