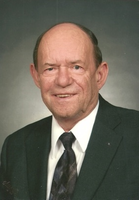 Michael Paul Gaukel
Paradise has lost one of its favorite sons with the passing of 69 year Paradise resident Michael Paul Gaukel, on November 30, 2018, he was 79. Mike was a kind natured man with a big heart. He loved people, and they loved him back. His occupation as a Funeral Director was a perfect fit for him for over 58 years, and like his father before him and his son after him, he dedicated himself to serving his families with all he had. And with his passing just over two weeks after his beloved Paradise was razed in the Camp Fire inferno, his death adds another blow to our fragile spirit as a community. Our records indicate that Mike had helped over 13,000 families over his career, or about half the population of his beloved city. As a community booster he was involved in many organizations, including the Elks Club, Eagles and Moose Hall, Downtown Paradise Business Association, St. Thomas More Catholic Church, Knights of Columbus, and proudly served in the National Guard.
Michael is survived by his beloved wife Jacqueline Gaukel, his son Tom, his daughters Connie and Wendy, along with numerous grandchildren and great grandchildren. He is preceded in death by his daughter Julie and his parents Paul and Frances Gaukel.
A Mass will be held on Thursday, December 20th, 2018, at 10:00 A.M., at Our Divine Savior Catholic Church, 566 East Lassen Ave. in Chico. Burial will be in the Paradise Cemetery as soon as it reopens.
Arrangements are entrusted to Ramsey Funeral Home 530-534-3877.