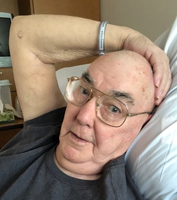 Mervyn Leroy Whiteside
Mervyn Leroy Whiteside, 78, passed away peacefully in his home on June 8, 2018 due to complications from a stroke.
He was born on October 30, 1940 in Gridley, California to Viola and Bud Whiteside. Mervyn served in the United States Air Force. He was a Retired Diesel Mechanic. He worked for Shifflet Bros. Trucking for 34 years.
He was preceded in death by his sisters, Francis West and Geraldine Jackson.
He is survived by six children: Treasa Wright, Shellie Scales, Raymond Whiteside, Tami Holland Davis, Debi Ramsey, and Stewart Detrick; two son-in-laws: Sterling Wright and Thomas Scales. He is also survived by eight grandchildren and 11 great-grandchildren; and sister, Betty Taylor
Graveside Service will be at 10 a.m. on Wednesday, June 13, 2018 at the Gridley-Biggs Cemetery. Reception after the Service at 550 Oro Dam Boulevard, in Oroville.
Arrangements entrusted to Gridley-Block Funeral Chapel, 530-846-2138.