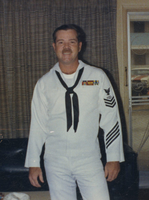 Charles Arthur Higgs III
His Legacy… Charles Arthur Higgs III was born on July 10, 1952 to Abby Vess and Charles Higgs II in Virginia. Charles "Chuck" passed away on April 12, 2018 in Oroville, California. Chuck was a precious father, husband, brother, grandfather, uncle and dear friend. He loved being a bear hunter, fisherman, father, grandfather and going out with friends and family. Chuck served 20 years in the United States Navy and traveled all over the world. He also belonged to the ECV.
His Family… Chuck is survived by his wife Ardy Higgs, his daughters, Becky Kosak, Lisa Higgs, Tarra Tarbush, and Nicole Wood, his sons Charles Higgs IV, Patrick Tarbush, Scott Peterson, and Brad Wood. He is also survived by his sisters Debra Higgs, Irene Higgs, Doris Higgs, Deann Hensley and his brother Norman Tamantini. Chuck also leaves behind 19 beloved grandchildren, and many nieces and nephews and cousins whom he cherished all of them. He is preceded in death by his parents Abby Hendrix, Charles Higgs II, and his brothers David Higgs and Joseph Allen Higgs.
His Farewell Service… His Memorial Service will be held on Friday, April 20, 2018 at 2:00 PM at Memorial Park Cemetery, 5646 Lincoln Blvd Oroville, California. A Celebration of Life will follow at the Notty Room, 1171 Oro Dam Blvd Oroville, California. Arrangements are entrusted to Ramsey Funeral Home 530-534-3877.