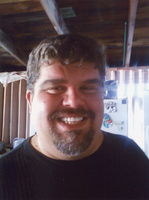 Adam Cardoza Luiz
Adam Cardoza Luiz left this world on April 9, 2018 to join God and family.
He was born September 21, 1970 to Anthony and Joan Luiz in Gridley, California. Adam worked at United Healthcare in Chico, California as a Dedicated Client Service Manager. Adam enjoyed his work helping others to navigate the healthcare system so that members could get the care that they need. Adam loved his family, friends and helping others. His laugh, humor and kindness will be missed.
Adam was preceded in death by his grandparents; father Anthony 'Tony' Luiz Sr., and two nephews Joshua and Shawn Whitchurch.
Adam is survived by his mother Joan; sister Teresa (John) Whitchurch, of Montana; brothers Tony Luiz Jr., Manuel (Lola) Luiz, of Gridley, California; and nieces and nephews: Christopher, Spencer, Erin, Tanner, Brianna, Aidan, Carson, Grant, Phoenix, and Cleo.
A celebration of life potluck will be held at 1:00 p.m. on Sunday, April 15, 2018 at 1950 Cinnamon Teal Court, Gridley, California.
Arrangements entrusted to Gridley-Block Funeral Chapel, 530-846-2138.