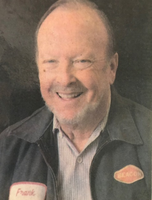 Frank Angus Belser
His Legacy… Frank Angus Belser was born on May 5, 1938 to Angus and Eunice Belser in Fort Smith, Arkansas. He faithfully and honorably served in the United States Army when he was drafted in 1961 to 1963 and was stationed in Germany. He continued his service to the Country with the National Guard four additional years. He shared his life with his loving wife, Linda Belser, for 52 years and they made their family home on their ranch in Palermo, California. Frank was a true pillar of the community, best known for his pride in ownership of a true Oroville iconic landmark, Beacons gas station; his most noteworthy undertaking and accomplishment. He dedicated his life to the success of his small town business and Oroville is a better place because of it. The precious little leisure and pleasure time he had, he enjoyed bowling on a league for many years and fishing with his sons and brothers, making memories on the lake. He was an avid fan of sports and loved the San Francisco 49ers and Giants. He showed off his family athleticism being a player(and manager) of the Beacon men's fast-pitch team in the 70's and 80's and also managed his sons AAA team and took two senior minor league boys hardball teams to Sectional and Divisional championships. Frank loved spending time with his family and enjoyed hosting many get-togethers with friends and family. He will be lovingly remembered as a man of integrity, dignity, and honor.
His Family… Frank is survived by his loving wife, Linda Belser of Oroville; daughter Carolyn Flint of Granbury, Texas; son Frank Jr. and daughter-in-law Heather Belser of Oroville; daughter Rebecca and son-in-law Brad Martin of Livermore; son Ronnie and daughter-in-law Rebecca Belser of Oroville; daughter Chrissy Belser & Joshua Guerrero of Oroville; grandchildren, Jimmy Howarth, Mike Howarth, Kristen Boling(Belser), Alyssa Tomlinson(Belser), Dylan Duncan, Breena Belser, Allison Martin, Erik Martin, Carolyn Martin, Ryan Martin, Kyra Halterman, Hannah Belser, Tanner Chase, Jake Baker, Ashley Bishop(Belser),Gabby Belser and Riley Guerrero; many great grandchildren; brothers Tom Belser of Oroville and Dick(Anne) Belser of Oroville, and his sister Sally Sharpneck of Sacramento. He is preceded in death by his brothers Sam Belser and Larry Belser and sister Suzie Belser.
His Farewell Service… A Celebration of a Frank's life will be held Thursday, March 15, 2018 at 10:30 a.m. at Ramsey's Funeral Home. 1175 Robinson Street. A reception is immediately following at the Eagles hall at 2010 Montgomery Street, Oroville, California. Arrangements are entrusted to Ramsey Funeral Home, 530-534-3877.