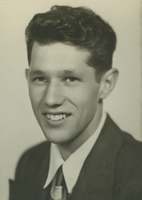 Glenn Hill
His Legacy… Glenn Hill, 85, passed away at Oroville Hospital on February 6, 2018 with his wife and daughter-in-law by his side. He was born in Devore, CA to parents Ervin Jay and Mary Hill. At the age of three he moved with his parents and older brother, Rudy to Oroville. He attended Eastside School and graduated from Oroville Union High School in 1951. He was in the Marines from 1951 until 1954 and served in Japan and Korea. On February 14, 1953 he married his high school sweetheart, Auda Main. They would have been married 65 years this Valentine's day. They lived in Oroville until 2000 when they moved to Berry Creek. He worked for 33 years as a carpenter, first for Perry Moseley Construction and then for Rudy Hill Construction. Together they built many businesses and homes in Oroville and Richvale. He owned a mining claim at Milsap Bar along the Middle Fork of the Feather River. Many happy summers were spent there with family and their friends, the Wakefields. They made many motor home trips to Arizona with the Wakefields.
His Family… Glenn is preceded in death by his parents, his daughter Linda Anderson, half-brother Vern Hill who was killed in World War II, his three brothers Rudy Hill, Ronnie Hill and Dean Hill all of Oroville. He is survived by his wife, Auda Hill of Berry Creek, his daughter Cindy (Jim) Elkins of Oroville, his two sons, Victor (Mieko) Hill of Seattle, WA; and Darrel (Karen) Hill of Kirkland, WA; two sisters Loretta (Gene) Jovich of Oroville and Joan Leathers of Vacaville. Also surviving are his grandchildren, Carlie Wentworth, James Anderson, Derek Elkins, Jason Elkins, Evan Hill, Noah Hill, Erica Hill, Rachel Hill, Shelby Hill, Jonas Hill, and Auda Hill and 19 great grandchildren and 1 due in July.
His Farewell Service… Per Glenn's request no services will be held. Arrangements are entrusted to Ramsey Funeral Home 530-534-3877.