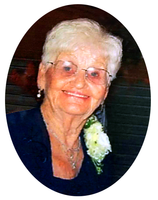 Mary LaVonne "Jimmie" Staley
Her Legacy… Mary "Jimmie" LaVonne Staley, born July 16, 1926, in Clear Lake, S. Dakota to Samuel and Susan Anderson. She died February 6, 2018 in Feather River Hospice House in Paradise, CA surrounded by her family. For 56 years she was married to Charles Staley who preceded her in death in 2002. As a young wife she lived in the Bay Area, began her family and moved to Oroville, where she and Chuck presided for the next 50 years. She was very active in the Lutheran church and thrived on the sense of community it provided. She loved bowling, playing bridge with friends, sewing, horseshoes, and spending hours by the pool or lake. She enjoyed having company and if you popped in for a visit, she wouldn't let you leave without dinner, a game of cards, and a swim in the pool. She always made sure the pool gate was open to everyone in the neighborhood. Her generous caring soul will forever be remembered by those who loved her deeply.
Her Family… Jimmie is survived by her Son, Chuck (Linda), Daughters, Sue Taylor (Skip) and Jyl Carney (Pat) - her 8 grandchildren, Simone Smith, Rachel Lohse, Craig Taylor, Fara Gallaty, Lindsey Carruth, Luke Carney, Ryan Carney & Mark Carney and 18 great grandchildren.
Her Farewell Service… A celebration of Jimmie's life will be Sunday, February 18, 2018 at 2:00 pm. at Calvary Lutheran Church, 10 Concordia Lane, Oroville, CA 95966. Donations may be sent to Feather River Hospice house at 1289 Billie Road, Paradise, CA 95969 or Calvary Lutheran Church - Oroville.
Arrangements are entrusted to Ramsey Funeral Home 530-534-3877.