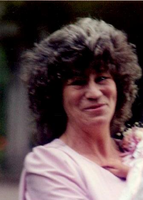 Sarah Margaret "Sallie" Cramer
Her Legacy… Sallie Cramer was born on March 26, 1939 in New Vienna, Ohio to William and Stella Morris. Along with her younger brother Tom, they moved to California's Bay Area and attended schools in the Richmond area until they moved to Northern California, where Sallie graduated from Orland High School in 1957. In December of the same year, Sallie married Marvin Cramer in Red Bluff, California and started their family. They moved a few times before settling in Elk Creek, California where Sallie ran a small café, worked as a cook for the school district and later became a bus driver all while raising their children. When Marv was transferred to Oroville, California, Sallie followed and began a fulfilling career as a self-employed Tax Preparer, where she thrived and made many friends/clients and eventually was able to retire. Throughout her various career roles, Sallie's life was ultimately about her family – she was a loving wife, mother, grandmother and great-grandmother. She enjoyed playing poker with their close friends, reading and traveling. Sallie passed away on February 2, 2018 in Oroville, California.
Her Family… Sallie is survived by her children – son Dave (Samantha) Cramer of Oroville, daughter Barbara (Jason) Zalinski of Newman, CA; son Monty (Patti) Cramer of Oroville, daughter Cheri (Todd) Richter of Oroville, son Brad Cramer of Long Beach, CA; son Steve (Janet) Russell of Los Molinos, CA; 18 grandchildren and 13 great grandchildren and counting. Sallie was preceded in death by her husband, Marvin Cramer and brother Tom Morris.
Her Farewell Service… A Graveside Service will be held on Monday, February 12, 2018 at 1:00 PM at Memorial Park Cemetery, 5646 Lincoln Blvd. Oroville, California. Arrangements are entrusted to Ramsey Funeral Home, 530-534-3877.