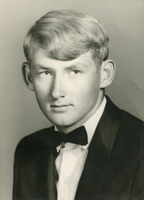 Darrell Joe Wright
A graveside service will be held Wednesday January 17, 2018 at 2:00 p.m. at the Gridley Biggs Cemetery for Darrell Joe Wright, 69 of Gridley. Darrell passed away on Friday January 5, 2018, in Gridley. He was born on June 15, 1948 in Gridley, one of four children born to Joe and Imajean Wright.
He was a graduate of Gridley High School, class of 1966. He had a love for cars; he enjoyed collecting and restoring them. He was known for his kindness and his ability to lend a listening ear to his friends and family. He was a member of the Christian Life Assembly of God Church.
Darrell was preceded in death by his mother, a cousin Roger Brazzel, nephew Jerame Cadek.
He is survived by his father, Joe Wright of Nevada City, CA, one son Jacob Wright (Debbie Sheets) of Gridley, 3 sisters, Nelda Andes of Biggs, Glenda Tipton of Oregon, Jeanette Kelso of Washington, 2 grandsons, Hoot Wright of Reno, NV, Luke Stanton of Gridley, and numerous nieces and nephews.
Arrangements entrusted to Gridley-Block Funeral Chapel.