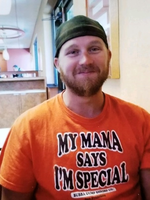 Robert McKay-Draughon
Robert "Robby" D. McKay-Draughon, 28, or Oroville passed from this world on January 5, 2018. He was born November 30, 1989 in Paradise, California. Robby graduated from Diamond Mountain Charter School in Susanville, California in 2008. Robby loved working with his hands and spent a lot of time working alongside Logan and Mason on their bicycles, RC cars and building forts. Robby will be remembered most by family and friends for his big heart.
Robby is survived by his two sons Logan, 8 and Mason, 6, his parents Robert and Lisa Draughon, Rick Williams and Tim McKay, his brother Tim Draughon, his niece Layla, and countless aunts, uncles, cousins and friends.
The family will be having a private service for family and friends. The family would like to say a special thanks to the Oroville and Susanville communities for all the support and condolences they have received.
Arrangements are entrusted to Ramsey Funeral Home 530-534-3877.