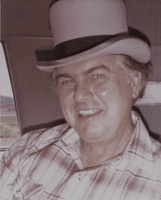 Jerry Gail Dugger
His Legacy… Jerry Dugger, born November 9, 1936, in Galena, Missouri to Ora and Idella Dugger, died January 2, 2018, in Oroville, surrounded by his family. He was preceded in death by his parents and his brother Gene Dugger. His family moved to California where they eventually settled in Oroville. Jerry graduated from Oroville High School having played football all 4yrs. In 1957 Jerry joined the Navy and made five tours in Japan and other places in the South Pacific. Jerry was discharged in 1962. Jerry met JoMarie Taylor through his sister Norva and later married on August 6, 1960 in Cypress, California. Jerry and Jo moved to Oroville with their 2 sons in 1966. Jerry was employed by Koppers Industries, Inc., Oroville for 28 years retiring in 1993. While working at Koppers Jerry bought his Mother's business in 1976. He and Jo ran DUGGER'S REST HOME until they retired in 2005. Some of Jerry's happiest times were when he had family around him; when he listened to gospel music; when he could travel around the United States. He loved U.S. history and the history of Oroville. He served as a docent for the Pioneer Museum in Oroville for 3 years. Jerry's laughter and his kindness will always be remembered by those who knew him.
His Family… Jerry is survived by his wife and partner JoMarie; his sons Mark and Mike and daughter-in-law Irma Dugger. 11 grandchildren and 9 great grandchildren. Jerry's brother Loyd (Jeanice) Dugger, Sisters Norva Green, Bernadine (Leonard) Pulley, Barbara Zogg, Linda (Charlie) Mason. There are numerous nephews and nieces who Jerry loved.
His Farewell Service… A celebration of Jerry's life will be Saturday, January 13, 11 am at Calvary Lutheran Church, 10 Concordia Ln., Oroville, CA. In lieu of flowers the family request donations to Calvary Lutheran Church, Pastor's Discretionary Fund. Arrangements entrusted to Oroville Funeral Home, 530-533-0323.